.
.
SCIENTOLOGY SLOGANS - PART 1
.
There is something very odd about the slogan--
"
S
CIENTOLOGY
I
S
H
ERE
T
O
R
ESCUE
Y
OU"
​
I think I may have figured out why it comes across as so bizarre.
1. Well for starters, it's weird because it's Scientology. Duh!
2. And obviously if it's Scientology, it's a safe bet that it's a complete lie. Scientology is only here to rescue you if the definition of the word "you" means L. Ron Hubbard because Scientology was designed and engineered to "rescue" Hubbard's personal finances.
3. Now comes the fun part. Scientology believes that if it can come up with a SuperSlogan it will cause people line up around the block and then breathlessly rush inside the org and throw down $600,000 and demand Total Freedom and magical powers. The curiously hilarious truth is that:
THE SUPER ABLE BEINGS IN SCIENTOLOGY,
DESPITE HAVING ALL THE TECH IN THE UNIVERSE THAT WORKS
ARE SIMPLY NOT ABLE TO FIND A SLOGAN THAT WORKS!​
The very first time I stepped inside a Scientology center, I noticed there was a big movie-sized wall poster of a freaky looking, whole-tracky Grim Reaper GRIM REAPER that looked kind of like this with yet
another
surefire slogan below it: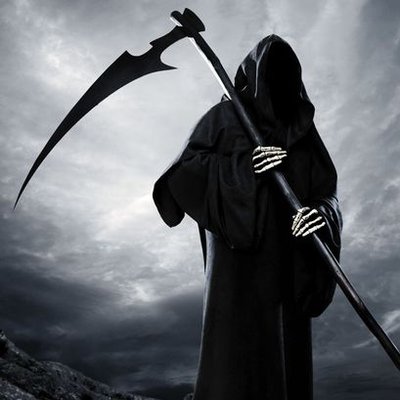 "
A
BANDON
Y
OUR
D
IFFICULT
S
EARCH. . .
A
LL
T
HE
A
NSWERS
H
AVE
B
EEN
F
OUND!"
​
Are you beginning to detect a pattern?
Hubbard, like PT Barnum, was forever trying to come up with
cosmically-catchy-copy
in the form of a new an irresistibly viral new slogan that would make the marks buy buy buy! In order for people to not only "desire" to get inside the freak show tent--but to "need" to get in there, the logo had to promise the moon.
And after the cash was safely inside the lockbox, to allow the mark to go inside the big tent where you didn't really have to deliver the moon, but only a shot or two of moonshine (or as they describe it now, "KoolAid")
How many LOGOS has scientology tried and failed with over the last 71 years?! I think the answer is this. So many that this thread needs to broken up into a several chapters!
SCIENTOLOGY SLOGANS: END OF PART 1
.
​
Last edited: