When searching the web the Scientology hate websites sometimes appears high in the search engines results page.
Google loves feedback and lives on serving accurate results.
Help Google with everyone's safe search experience. The Scientology hate websites does need a little feedback from the users.
Jeffrey Augustine have you ever tried this 2 steps?
We recognize it can be distressing when non-consensual sexual content is discoverable in Google search results. We may remove intimate or explicit images and videos that were created or shared without
Linking to Hateful and misleading content is BAD SEO
Google does not like spreading of virus, hacking actions or misleading hateful content. By making it public available or linking to such content you are actively creating bad SEO on your site & helping to spread the shit.
If you already have links to Scientology hate websites, just delete the links and insert a image from the hate-site. Baptize the image to Scientology hate or something accurate. This will increase the visibility of your site by decreasing the links to bad places on the net. Who want to be associated with hateful contents?
The Scientology websites with Standleague and Freedommag are interconnected with the hate-sites and some of them have hate contents on their websites. So ANY LINK TO ANY SCIENTOLOGY website is supporting the hate websites.
Links are what connects the web.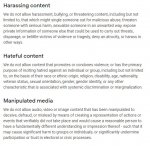 Our content and behavior policies help ensure a positive experience for our users and publishing partners. To be eligible to appear in Google News or
OK?
Last edited by a moderator: