Independent Scientology and Nation of Islam news
"Christian" Scientologist Joy Villa is a Scientology Minister or Minister-in-Training.
In her recent Scientology personal ad, Joy Villa says that she is a Scientology Class 4 Auditor on her Internship at the Johannesburg Org. See: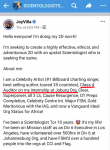 As set forth in: (a) the relevant Scientology HCOPLs and HCOBs in the current Minister's Course pack (which I have read); and (b) the official Scientology website:
The Scientology E-Meter used by Auditors is a "religious artifact" "for use only by a Scientology minister or Scientology minister in training."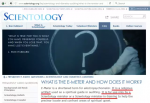 An Auditor is a minister or minister in training of the Church of Scientology.


All Auditors are required to be ordained ministers of the Church of Scientology.

Likewise, it is a prerequisite to for permanent certification as an Auditor that to become an ordained minister in the Church of Scientology.

/